Character Info
Name
: Malina Eveningstar (last name translated when she moved to Vale from Xnukek)
Gender
: Female
Race
: Human
Age
: 19
Personality
: Malina is manipulative, mean, and most of the time a compulsive liar. She thinks of almost all others beneath her and sees weaker fighters as unnecessary additions to the world. She takes great enjoyment in seeing weaker fighters be beaten and pummeled into the ground with wrath as they are not worthy to stand among Hunters and Huntresses. She does, however, have respect for those able to put up a decent fight or even beat her, though she may not show it. She is very used to being able to wield intimidation due to Manticore and almost never shows and form of fear or nervousness, always wanting to seem in control of things. Due to Malina being how she is she can be very hard to get close to and it is very hard for Malina to get close to other people. When she does get close Malina treats them as equals and siblings, though not in public. She has never had anyone special in her life before, preferring herself to others in that regard, and as such she is completely inexperienced in the field of actual relationships despite her age. She resents faunas as she believes that they lack the right to claim they have been discriminated against as she thinks that being compared to a cross between a human and a Grimm is worse than a human and an animal. She doesn't respect anyone, superiors included, until they prove themselves as capable and useful to the world. If they prove to be useless almost nothing will make her change her mind save for being beaten.
Appearance
: 5'6"  134 lbs. (Plus 30 lbs. from Manticore.) Malina has long red hair and greens eyes, a trait passed down from her father. She, like most people from her kingdom, has a much darker skin tone than the Valish. While most inhabitants of Vale have a milky white skin tone, she has a beige-mocha skin tone. Her body is more curvy than most Valish, a gift of her lineage.She wears a necklace, given to her by her mother, with her symbol hanging in a circle at the end. The necklace itself is made mostly of a rare material from her home kingdom, while the symbol itself is made of a crystal harder than steel. The chain and ring around the symbol are a pale gold color while the symbol is clear with a pale blue tint.
Malina:
Representation
:
Malinalxochitl
Color
: Purple Amethyst
Semblance
: Concussive Burst - She has the ability to send out her aura in a concussive blast outward fifteen meters in all directions than can cause others to get knocked far back and even knocked out. The aura moves at a quick enough speed to deflect small caliber bullets and and thrown projectiles as well as close range attacks but larger caliber bullets moving at a faster speed and still pass through, although they may be thrown off course.
Emblem
: (Liable to change to a more traditional RWBY emblem)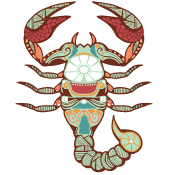 Bio
: Malina was born in a kingdom to the east. She was born into a family of scientists and warriors, with both of her parents working for the government on weapon programs and her brother a skilled hunter. In her younger years she was put into a junior combat school, as he brother had been before her. Her life was no different than many others form her kingdom, no better or worse, for years and years. On the day of her tenth birthday she was brought to a lab by her parents and had a large, much to large for a ten year old, cybernetic scorpion's tail attached to her as part of a weapons program. For the next year she was ridiculed, discriminated against, and abused by humans and faunas alike.
During the night of her eleventh birthday she stole her brothers old weapons and snuck out of her parents house to one of the cargo ships heading to Vale. During the ride across the ocean she stowed away in the cargo room, hiding atop and around the large crates whenever a seaman came to check up on the supply. When she needed food she climbed through the vents, scooping up food from above with her tail. Upon arriving in Vale she lived in the streets, scrounging and staying in the shadows for two years, away from the site of men and women. The day that Signal recruiting came around she swallowed her pride, collected her few thing, and made her way to the school.
At the school she made herself known, more so than other students, by sticking out as the scorpion girl. Even there in the kingdom of Vale they pestered and picked on her. During her first year she had lost eight training matches and won twenty-two. While in her first year she lacked physical strength, she made up for it in mental strength. Every match she fought she laid out a plan to make the enemy tired, then strike. In her second year, she discovered the power of dust rounds and lost five training matches and won twenty-five. During her third year she developed an affinity for propulsion dust and the ability to dart around the battlefield. During that year she lost two matches against teachers and one against a student and won twenty-nine in total.
Upon graduating from Signal she received invitation to Beacon, one of the top training schools in the kingdom. When she arrived at the Beacon Academy she was paired up with her current teammates and has been training with them since, though her relationship with the others is still rocky at best.
Battle attire
: Starting from the top, Malina wears no head gears and detests any type of the sort. Around the circumference of her neck is a small, bronze color, neck brace that has been etched to resemble scales or scorpion exoskeleton. From the bottom of her neck down to her bust and across and down to her right forearm there is, now green, more armor with larger and thicker etchings across it as well as golden colored metal guard on her right shoulder. On her right wrist she had a worn looking, bronze colored, vambrace with a crack running down the middle diagonally. Down from slightly past her elbow and how to her wrist on her left arm she has a longer, but thinner bracer, with the same color and etchings as her neck brace. From her bust down she has more of the bronze colored plating running down to her waist on the from of her body as well as the back, with the areas under her arms open. Under the armor she wears a deep purple cloth covering her torso. The same cloth is worn around her waist in a half dress, stretching down to her kneecaps. Over her right hip and thigh she wears more of bronze armor, however thicker than what is worn on her forearm or neck, stretching down just past the half dress. Just below the armor on her right thigh she has a chin guard with the same armor that is worn on her bicep and collar-bone, stretching from her kneecap to her ankle. On her left leg she wears a bronze colored knee-guard with an extended leg wrap going down from underneath the knee guard to her sandal, which she wears on each foot.
Fighting style
: Malina uses her propulsion dust to quickly move around the battlefield, waiting for her opponent to make a mistake in their own fighting style before launching herself toward them and moving in for a quick attack with Manticore (Paralyzing poison for people, Killing for Grimm) to debilitate them before moving in for any finishing that may be needed.
Weapon Name
: Manticore
Weapon Range
: Close
Weapon type
: Cybernetic Scorpion Tail
Weapon Description
:
A large dark navy-blue cybernetic scorpion tail attached to her nerves in her lower back.
Along the tail are several, also dark navy-blue, bladed segments that stick out off of the "spine" of the tail. On the end of the tail is a pointed stinger, resembling a scorpion's, that has a chamber at the base that can be loaded with five different types of poisons and one empty slot. Each can be loaded with small containers of liquids and once used up the poisons become useless as she does not carry extra's on her person. How effective each poison is also depends on how much is used. The more is used the more powerful the effect. Manticore can also dispense poison continually. For example, if the stinger was placed in a glass of water it would be able to fill it with more poison than simple jabs.Malina has full control over the tail and usually uses it for fast swiping attacks or jabs although it can be used to capture someone or something, by wrapping around them, or block hits. Blocking hits, however, is dangerous as the joints of Manticore are it's weak-points. When she is not using the tail it is wrapped around her waist.
Weapon Abilities
: POISON TYPES:
Paralyzing: Paralyzing anywhere from a limb to the entire body for a short period of time depending on the dosage of poison used.
Sedatives: Able to numb parts of the body and ease pain.
Lethal poison: Able to kill someone in approximately half an hour
Knock-out agent: Able to knock out someone for up to an hour. (Real world explanation: Chloral Hydrate mixed with Ethanol)
Empty poison chamber: For none poisoned strikes.
Weapon #2 Name
: Glailex
Weapon #2 Range
: Close
Weapon #2 type
: Spear/Glaive
Weapon #2 Description
: Spear form looks like:
http://puu.sh/7GKZt.jpg
                                          Glaive form looks like:
http://puu.sh/7GQge.jpg
The primary form of Glailex is the two-handed spear form, which is what form that Malina prefers to keep it in. With the press of a button the separated blades fold over to one side and extend upward to connect to the separate blade above it while the tip blade fold in half and leaves it with only one side of a blade, turning it into a two-handed glaive.
Weapon #2 Abilities
: On the square base of the pole are four slots that can be loaded with propulsion dust with small slots above them that can rotate 360 degrees in two dimensions (AKA in a circle). With the pull of a trigger on the pole the dust launches and is able to propel Gailex for powerful swings or even, if three or more slots are used, propel Malina along with it. The slots can also be loaded with fire or electrical dust to circulate the dust through small canals inside of the blades, giving the mental an electrical or searing effect.
Misc. Info
Family
: Mother, Father, and Brother all alive back in her him. She dissociates with them and refuses to accept them as real family however.
Strengths and Weaknesses
: Strength - Malina is almost always an offensive fight, being the first to strike and usually the faster. She is very fast on her feat despite having a large cybernetic scorpion's tail attached to her and can use it will moving making her a deadly opponent to face. In the past two years of attending Beacon, Malina has learned many skills such as more advanced than most as well as quick combat tactics and plans as well as more advanced combat moves. She is also advanced in using propulsion dust to move around the battlefield.
Weakness - While Malina is skilled at fighting on the offensive she is extremely unskilled at being put on the defensive, she will often lash out at the wrong times while fighting on the defensive. She is prideful and doesn't now when to shut her mouth. She wants to always remain in control and when she looses her advantage she becomes more anxious to get it back and may make poor decisions.She has light armor and a missed swing with her weapon can leave her very open. She is very arrogant when fighting others. Manticore is hooked up to her nerves and as such any sever hits to it will be extremely painful for Malina.
Other
: